It's free to create business listings on this website, but there are several reason for upgrading, which we'll outline below.
But first: you may already be entitled to an upgraded listing. Every year the Frontenac News publishes a local directory called Everything Frontenac, and if you're advertising in this book, you automatically get an upgraded listing on the website. Just get in touch with us at This email address is being protected from spambots. You need JavaScript enabled to view it. to set that up.
How Do I Upgrade?
Upgraded listings cost $75 +tax per year. If you're interested, contact us in the office by emailing This email address is being protected from spambots. You need JavaScript enabled to view it., or call us at 613-279-3150. We will add an online payment option soon.
Why Upgrade?
Your upgrade comes with a physical listing in a large-print, local directory that is delivered by mail to 12,000 households in North, South, and Central Frontenac, as well as Addington Highlands and some households in Lanark. The book is published once a year by the Frontenac News and has become a local staple in households across our distribution area.
On the website, upgraded listings appear above basic listings in searches, can have links to social media and websites, detailed descriptions, and most importantly: they provided an opportunity to showcase your business and highlight your services.
We'll show you some images below, but if you want a text breakdown of features, skip to the bottom.
Here's what an upgraded business profile looks like on desktop: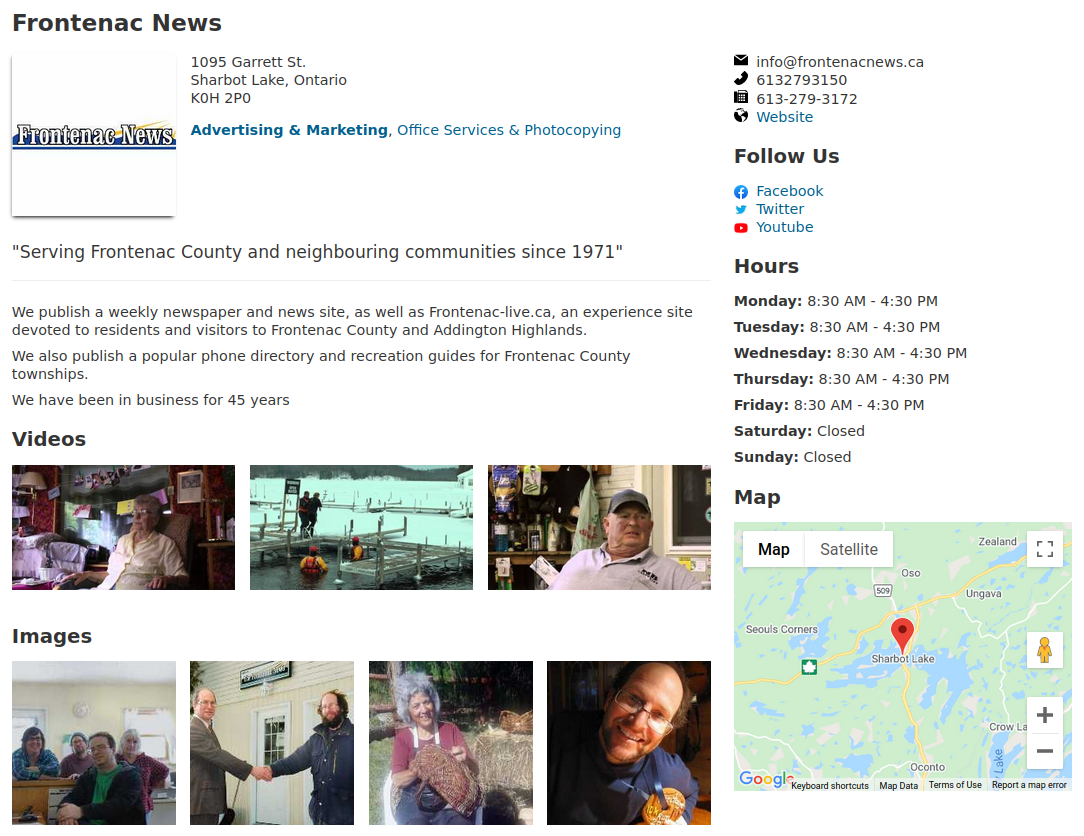 ---
And here's what a free business profile looks like:

---
Here's what upgraded listings look like in search results. Remember: these results appear at the top of category pages:

---
And here's what free listings look like in search results. These appear below upgraded listings, and only appear in one category:

---
Feature Breakdown
Here are all of the features side-by-side. If you want to get an upgraded business listing, contact us in the office by emailing This email address is being protected from spambots. You need JavaScript enabled to view it., or call us at 613-279-3150.
| | |
| --- | --- |
| Basic | Upgraded |
| Free | $75 + tax per year |
| Address, Email, Phone and Fax | Address, Email, Phone and Fax |
| 1 Category | 6 Categories |
|   | Listed in a physical directory once a year |
|   | Displayed in a rotation at frontenacnews.ca |
|   | Featured Business Listings |
|   | Description & Slogan |
|   | Website Links |
|   | Social Network Links |
|   | Business Logo |
|   | 30 Images |
|   | 5 Videos |
|   | Business Hours |
|   | Google Map |