Ken Waller Woodcrafts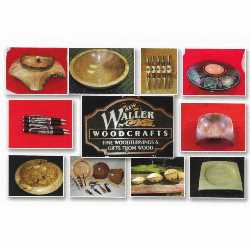 Sharbot Lake, Ontario
K0H2P0
ken.waller@kenwallerwoodcrafts.ca
613-279-3035
613-795-8165
Follow Us
"Fine woodturnings and gifts from wood"
---
Products
Bowls from local wood (walnut, maple, oak, birch, cherry), other Canadian wood (big-leaf maple burl from BC), semi-exotics from the American South-West (mesquite, sissoo, eucalyptus) and exotic wood from around the world (Cocobolo, camatillo, tulipwood)
Natural edge bowls which include and incorporate the bark of the tree into the rim design
Kitchenware (Wine stoppers, pepper mills, bottle openers, vegetable peelers, etc.)
Jewellery
Pens, pencils and sets
Purse mirrors
Houseware (Candle snuffers, Letter openers)
Vases
Background
Ken has been an active woodturner since 1981. In the early years, this hobby provided a relaxing diversion from his fulltime job as an aerospace engineering officer with the Canadian air force. The hobby soon became a passion. Ken has been selling his creative works since 1996 at craft shows and local galleries. He routinely participates in the shows of the Ottawa Artisans' Guild, the Artfest Kingston Show, and the Cloyne Showcase. He is also a frequent participant at the Sharbot Lake Farmers' Market. Ken has been very active in the woodturning community. He was president of the Valley Woodturners (Ottawa) from Jan 2001 to Dec 2005 and the Kingston Woodturners from 2006 to 2008. He has been a woodturning teacher for over 18 years, having introduced over 250 students to the wonderful world of woodturning. Ken retired from the military and now lives fulltime in his Sharbot Lake home, working from a 1500-sq ft shop facility that includes a separate gallery/display area.
Philosophy
Ken enjoys taking pieces of local or exotic trees and exploring them for their hidden jewels; a swirl of figure, some unique grain, a dash of colour, and exposing them to the best advantage. Ken prides himself on the texture and finish he is able to obtain with his work.
Images
Map
---